HDCP 2.2 issues with 4K/UHD content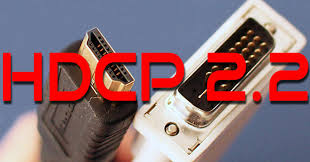 Potential issues with HDMI and HDCP 2.2 connectivity with upcoming 4K/UHD content
HDCP (high bandwidth digital content protection) is embedded into high definition content, created by content developers (e.g Hollywood) to help ensure content can only be sent and received by approved products from approved manufactures. This prevents an unapproved company producing a 'e.g blu-ray disc burner', thus preventing content of that blu-ray disc being delivered to an unknown device.
For example if I want to play a Blu-Ray disc on a television, I would need HDCP built-in to both the Blu-Ray player and the TV.  Once they are connected they 'handshake' with each other to decide whether the protected content is approved to play.
Periodically HDCP is released in newer versions to protect newer formats of content (e.g 4K/UHD), which means equipment manufactures need to keep up-to-date with the in-built HDCP chips.
HDCP version 2.2 is due to be released with upcoming 4K/UHD content for UltraHD Blu-Ray discs and some streaming services to NZ.  This release means that all HDMI compliant products (between the source and display) would need to be HDCP 2.2 compliant for the content to play.
A lot of television manufactures prematurely released their 4K/UHD televisions before the HDCP 2.2 standard was finalised and these TVs will not 'handshake' with the new UltraHD Blu-Ray Players and 4K/UHD disc content resulting in blank screen on the television. Furthermore, these TVs cannot be upgraded by way of a firmware update as physical HDCP chip switch-out would be required.
There may be a future 'work around' for this issue – such as a HDCP emulator or stripper – but when purchasing your displays r screens we recommend you double check that it's an approved 4K/UHD HDCP 2.2 compliant television, or better yet click here to buy a 4K/UHD television that you know is HDCP 2.2 compliant!
Words by Sam
https://aa.net.nz/wp-content/uploads/2016/06/hdcp-2.2.jpg
162
310
Brendon Reid
https://aa.net.nz/wp-content/uploads/2022/09/aa-2022-logo2.png
Brendon Reid
2015-08-24 23:06:08
2016-06-15 04:41:35
HDCP 2.2 issues with 4K/UHD content