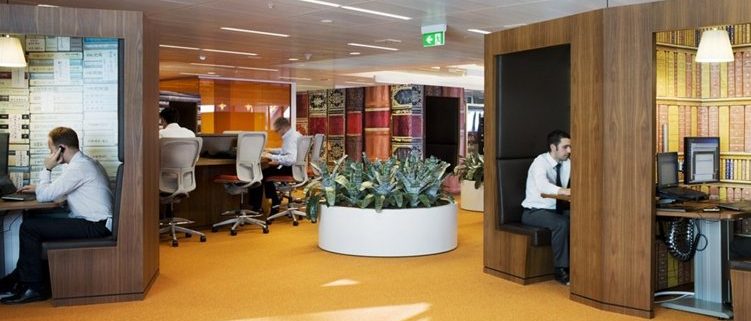 Activity Based Working – a new style of working environment
Activity based working is based on the principle that no employee 'owns' or has an assigned workstation. Rather, work-spaces give employees areas to carry out tasks such as focusing, collaborating and socialising.
This new way of working takes a team-oriented approach and gives much more flexibility to teams to adapt how they work. While ownership of a desk is lost, in an activity based working environment, team ownership of a zone is gained, transitioning employees from a 'me' mindset to a 'we' mindset.
Employees have an emotional reaction to their work-space, and while some people may be initially resistant to this change, the results show people become empowered and engaged from both a social and work perspective through activity based working.
Change is also required at management level as activity based work spaces result in less visibility of employees and employers must have more trust in them and provide more support and communication, and appraising performance thought work outputs – instead of processes.
Consideration must also be given to IT and the change in the mobile capacity of systems and technologies and this is where Automation Associates Commercial can assist with providing workplace technology solutions that are attuned to the way people work. By gathering information through research and workshops in your organisation they design and install audio and visual technology solutions that achieve engagement, creative thought, collaboration and improved productivity.
Technology solutions are designed based on your 'real estate' availability and requirement for controlled room bookings, privacy requirements, audio and video requirements, staff training requirements, requirement to support interactive processes, connectivity requirements, controls and user interfaces and software/hardware/process consistency.
If you would like to learn more about activity based working and what solution might be right for your business call Automation Associates Commercial on 09 377 3778 today for and obligation free chat with our friendly experts.
https://aa.net.nz/wp-content/uploads/2016/06/abw.jpeg
367
751
Brendon Reid
https://aa.net.nz/wp-content/uploads/2022/09/aa-2022-logo2.png
Brendon Reid
2015-08-06 23:24:03
2022-11-09 08:37:02
Activity Based Working